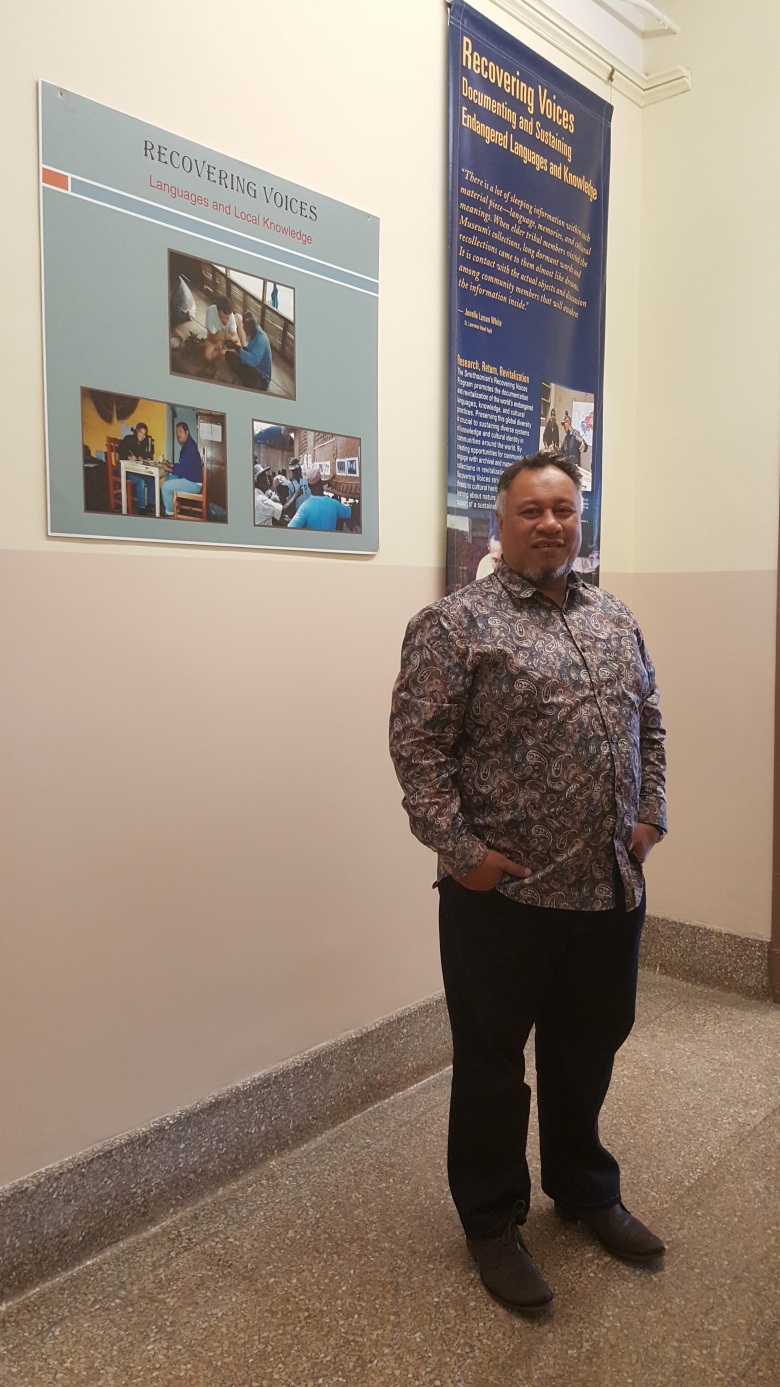 Te Ipukarea team member awarded prestigious internship at the Smithsonian Institution in Washington DC
23/03/2017

Tērā te wakatere kua wehe i ngā tai o Waitemata, me he waka hourua i takea mai i Sava'i, i Upolu. He aha rā ia tēnei waka e whakaripiripi atu nei ki tua o taharangi? He pitomata, he māramatanga, he mōhiotanga. 
Kei te ihu pākiki, tērā tētahi wānanga hei ūnga mō tō wakatere.
Kimihia, rapua te puiaki o te kura huna.
A Sāmoan in Washington DC
This week Uia (John) Patolo, our dear friend and colleague, began his time as a 'short-term visiting scholar' at the prestigious Smithsonian Institution in Washington DC. John is a statistical data analyst and researcher in Te Ipukarea.  He has worked on several research projects over the last few years including the Dictionary of Cook Islands Languages and the report on the Te Aka English- Māori, Māori – English Online dictionary pop-up survey. 
Postgraduate Study
John is a role model for mature students, particularly parents, returning to university. Having completed his Bachelor of Arts in 2008 and his Master of Arts in 2014, John is currently a doctoral candidate in Te Whare o Rongomaurikura - The International Centre for Language Revitalisation, within Te Ipukarea.
John's thesis, 
'O a mai oe? Samoa language in diaspora Aotearoa/New Zealand', will contribute enormously to understanding the health of Pacific languages in Aotearoa/New Zealand. His research will examine the data from the New Zealand Census of Population and Dwellings 1996, 2001, 2006 and 2013 with a focus on 2013. In addition to the secondary data, John will collect primary data from a language attitudinal survey administered to a sample of 3,000 Pacific peoples. The research will compare Pacific peoples but will drill down into the Samoan ethnic group.
John's experience at the Smithsonian will help inform his doctoral research and his work within Te Ipukarea and the Centre.
Smithsonian Institution
John was awarded the position at the Smithsonian through AUT InterNZ in October 2016. He is the first person to take up this particular internship and is one of two Te Ipukarea team members to be awarded AUT interNZ internships in 2016 (for 2017) - we farewelled Toiroa Williams last month, who is on the opposite coast to John, at the Sundance Institute in LA.  
Founded in 1846, the Smithsonian is home to the world's largest museum, education, and research complex. John's position will be with Recovering Voices, a collaborative initiative of the National Museum of Natural History, the National Museum of the American Indian, and the Center for Folklife and Cultural Heritage. Recovering Voices responds to the problem of language and knowledge endangerment by capitalizing on the Institution's research and collections assets to support communities around the world working towards language, culture and knowledge revitalisation.
Global Survey on Language Revitalisation Efforts
John is tasked with working on the analysis of the Global Survey of Language Revitalisation Efforts, the first of its kind in the world.  The information provided by the respondents will allow a comparative analysis of the factors that may improve the outcomes of revitalisation efforts. The results are expected to yield insights of value to revitalisation practitioners around the world.
John will be working under the guidance of Dr Gabriela Pérez Báez, Curator of Linguistics, Co-Director of the National Breath of Life Archival Institute for Indigenous Languages and Director of the Global Survey of Language Revitalisation Efforts at the Smithsonian.  Dr Gabriela Pérez Báez is also a Fellow of Te Whare o Rongomaurikura – The International Centre of Language Revitalisation, within Te Ipukarea.
He won't come back empty handed...
John will be away for three months and will return to us mid-year. It is an amazing opportunity for John and, without a doubt, he will make the most of this experience. Te Ipukarea and the Centre will also benefit through the knowledge, skills, and experience John gains during his time at the Smithsonian, particularly the insight regarding surveys as a tool to gather information from communities globally, working to save their endangered languages. This knowledge will help to inform future research projects and initiatives within Te Ipukarea and Te Whare o Rongomaurikura - The International Centre for Language Revitalisation.
Nō reira, kei te hoa, Uia, tēnei te tuku i ō mātou mihi ki a koe kua peka atu ki whenua kē atu, ko mātou kua mahue ake nei tēnei e tatari mai ana kia hoki ora mai koe. Ka mutu, kia haere tū atu nōu e takahi nei i ngā huarahi mātauranga kei mua i tō aroaro, ā, hoki Hāmoa mai rā koe e hoa, e Uia, ki te wā kāinga. Noho mārie atu i raro i ngā tauwhirotanga a tō Matua-nui-i-te-rangi, te ariki o ngā ariki, nāna nei ngā mea katoa.