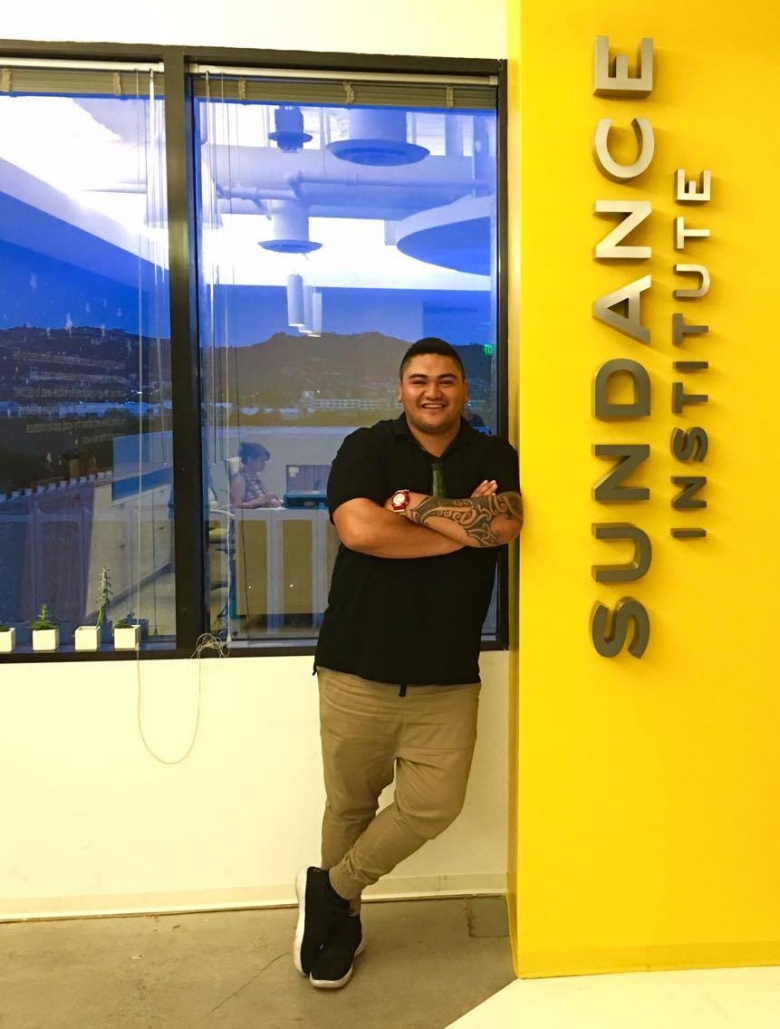 Te Ipukarea farewells one of its staff to take up prestigious internship
22/02/2017
Papaki ana te tai ki Waiotahi
Kei hea rā te ika hoe tūātea?
Kua kauria te marae o Kiwa
Ki tua noa atu, ki tāhapatū o te rangi
Ki ngā wai kōwhitiwhiti o tauwhenua e
Toiroa, whāia tō huarahi mātauranga ki ōna tāepaepatanga. Whakamaua ko ngā mōhiotanga ka whāngaihia ki a koe e te ruranga ika-a-whiro o Tāne-i-whakairo, o Hine-auaha. Kia hoki tū mai koe ki tō ūkaipō, noho atu rā i ngā tauwhirotanga a ō tūpuna, me ko te uri o Muriwai e ngunguru nei, au, au, aue hā!
This last weekend, one of the Institute's postgraduate students and researchers, Toiroa Williams, departed for Los Angeles to take up an AUT InterNZ internship at the prestigious Sundance Institute. 

Sundance Institute
Founded by Robert Redford in 1981 to advance the work of storytellers and film-makers globally, Sundance is a non-profit organisation which provides creative and financial support to emerging and aspiring filmmakers, directors, producers, film composers, screenwriters, playwrights, and theatre artists through various programmes  and Fellowships.  This includes the annual Sundance Film Festival held in Utah to showcase American and International Independent films. The internship with Sundance was facilitated in part by New York-based Sarah Smith, Global Employer Liaison & Intern Support for AUT InterNZ, who is a part of the Te Ipukarea whānau and has worked with us over many years coordinating strategic engagement in the US.
It is an amazing opportunity for Toiroa and, without a doubt, he will return with many stories of his own to tell combined with new skills and knowledge about the filmmaking industry, and valuable experiences.

Meeting Toi
The Te Ipukarea team first met Toi in 2013 when he was selected to be a part of a kapa haka (Māori performing arts group) of undergraduate Māori students from across AUT, to travel to Washington D.C. and support Te Ipukarea staff in hosting a Symposium on Māori Language Revitalisation in Aotearoa/New Zealand – a side event of the One World, Many Voices: Endangered Languages and Cultural Heritage Folk Life Festival at the Rasmuson Theater, National Museum of the American Indian, Smithsonian Institution. Whilst abroad, Toi was an exemplary student ambassador for AUT and showed promising leadership qualities.  

Postgraduate Study
Through the relationship that was established in Washington D.C., Toi was encouraged by Professor Tānia Ka'ai to pursue postgraduate studies, after successfully completing his Bachelor of Communication Studies at AUT at the end of 2013.  In 2014, Toi enrolled in his Master of Arts degree and asked Institute Senior Lecturer, Dr Rachael Ka'ai-Mahuta to be his primary supervisor along with Jim Marbrook from the School of Communication Studies as his secondary supervisor. Toi graduated with his MA (Hons) in December 2016 after producing an amazing documentary and exegesis on his topic, Tū ake ngā uri o Muriwai: Understanding Key Factors that Lead to the Success of Rangatahi Māori from Ōpōtiki.   

Rea Productions
While in pursuit of his Masters degree, Professor Ka'ai also employed Toi in the Institute part-time. Toi helped the Professor establish the Digital Media Unit in Te Ipukarea, called Rea Productions.  Utilising his knowledge and expertise in digital media, Toi has worked on several research projects including the Dictionary of Cook Islands Languages, He Kupu Tuku Iho - a set of video interviews with Professors Tīmoti Kāretu and Wharehuia Milroy which have been transcribed into a book manuscript for publication later this year, filming and editing our bienneial Māori language open-subject conference – Te Puna o te Kī, and filming and editing a short documentary on the health of the Māori language in a small coastal community where all interviews were entirely in te reo Māori.

Good luck Toi
After many celebrations with the team over the last two months, including the AUT InterNZ awards night, AUT Graduation 2016, and taking Toiroa's masters documentary back to his whānau and community at Ōpōtiki College, Toi left on his adventure. We received word that he has arrived safely in LA and is already enjoying his time over there! 
Toi, we wish you all the very best with your internship and look forward to your safe return.
Kia hora te marino, kia whakapapa pounamu te moana,
kia tere te kārohirohi i mua i tō huarahi