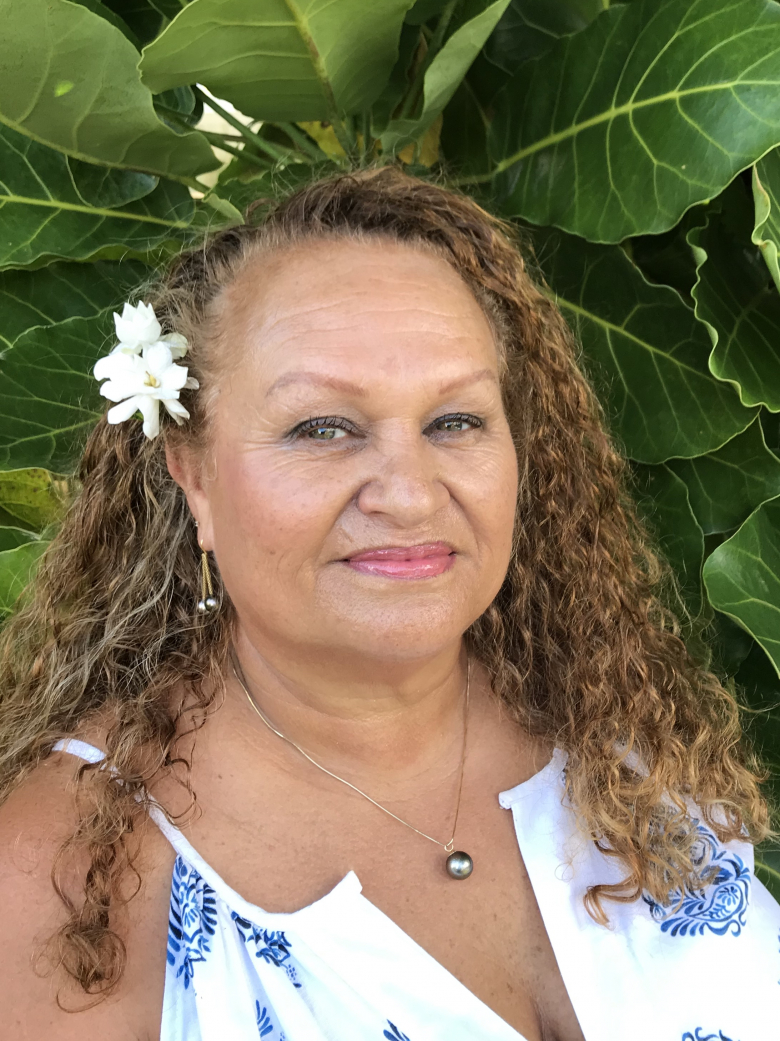 Professor Tania Ka'ai - Supervision excellence through a cultural lens
04/02/2019
Professor Tania Ka'ai, known simply as 'Prof' to her students, is passionate about supervising postgraduate students.
"I enjoy seeing my students grow intellectually through the postgraduate journey" she says.  "Seeing them become experts in their fields, and then applying this knowledge to transform their communities after graduating.  I also enjoy meeting their whānau along the way and seeing the pride in their hearts on their child's/mokopuna's/mother's achievement".
Professor Ka'ai, Director of Te Ipukarea, the National Māori Language Institute and Te Whare o Rongomaurikura, The International Centre for Language Revitalisation, has a background in Māori education and language revitalisation.  However, her knowledge and experience in Indigenous methodologies has seen her supervise postgraduate students covering a wide-range of subject areas, including Māori Studies, Pacific Studies, Language Revitalisation, Critical Theory, Anthropology, Education, Art and Design, Māori Fine Arts, Spatial Design, History, and Health and Physical Education.
The most students she's ever had "on the books" at any one time is 20 and she has in excess of 40 postgraduate completions, which is an amazing contribution to the growth of Māori and Pacific scholarship in New Zealand.  Looking over her list of past supervisions, several names jump out including two current Deans of Māori, Pacific, and Indigenous Studies, one current Māori Deputy Vice-Chancellor, and a handful of well known Māori language revivalists, teachers, and activists throughout the country.
Professor Ka'ai suggests that her Māori and Pacific heritage and her understanding of Indigenous world-views are partly why students seek her out.  However, in speaking with her students, both past and present, it's clear that it goes beyond that.  Students and graduates have highlighted her reputation and track-record of seeing students through to completion, her style of supervision, and her strong advocacy for students as major drawcards. 
The care and attention she affords her students has been noted repeatedly by current students and by graduates, one of whom said, "Professor Ka'ai has a caring nature and will go the extra mile to help her students".  The awards she has received for postgraduate supervision, most notably from students' associations, are testament to this.
Professor Ka'ai's "amazing supervision style", as one of her current doctoral students put it, includes adapting her approach to suit each student.  Her experience as a trained teacher for example, enables her to recognise the areas where students need help in developing specific skills, such as academic writing ability and critical thinking.
One of her mature doctoral students, a member of the Auckland Pacific community, said, "I think Professor Ka'ai has a flexible situational leadership style and as such can adapt to suit the strengths of the student.  For me as a mature student, Professor Ka'ai is able to recognise my assets and nurture them to realise my potential".
She intentionally models the behaviour that she hopes her students will go on to exhibit, particularly when it comes to "giving back".  Several of her students and graduates drew attention to her commitment to her communities and to producing Māori and Pasifika scholars that are able to give back to their own communities, with one saying "Professor Ka'ai has a strong sense of community responsibility and accountability and imparts these qualities to her students.  By this I mean she encourages students to incorporate aspects of community into their research".
A recent Master of Arts graduate added, "From the beginning, Prof was a passionate advocate for advancing Pacific and Māori research not only within academia but also within communities. She is culturally rich in knowledge, which has no doubt been invaluable to me on this journey, providing a nurturing platform that integrated my cultural ideas with academic requirements".
Professor Ka'ai uses Indigenous values, processes, and venues to help students reach their full potential.  This includes a wānanga approach to learning where venues such as marae and homes are used, enabling student and supervisor to live and eat together over the course of a weekend to progress the work.  During the academic year, this usually occurs at least one weekend per month, with Professor Ka'ai sacrificing time with her own whānau, including her first mokopuna.
When reflecting on the supervision she provides her students, Professor Ka'ai says, "My style of supervision can be described as values-based, in that I take a holistic approach to supervision.  I also project-manage my students through the whole process".
She is notorious for having her supervision meetings booked in up to a year in advance, to ensure her students get guaranteed time with her during the busy academic year.  That type of project management was referred to by several of her students, including a Master of Education graduate who said, "Her persistence and no-nonsense approach never allowed me to deviate from the task at hand.  I'd still be mucking around if it wasn't for Prof". 
A long-time proponent of collaborative working models, such as mahitahi, she has recently been supervising a group of three doctoral candidates working together on a collaborative topic, something which is groundbreaking and which Professor Ka'ai needed to advocate strongly for.   
One of her graduates in Language Revitalisation highlights her championing of students as her best attribute, "She promotes a sense of purpose within her students and always remains positive and engaged at every supervision meeting. But the most empowering aspect of her supervision style is the belief she has in her students, their topic and their ability to complete the research and add substantial knowledge to the research area".
As another of her recent graduates, located in the Cook Islands, said, "Professor Ka'ai will not give up on you".

More from Professor Ka'ai's students and graduates…
Māori Doctor of Philosophy graduate (2018) specialising in language revitalisation and critical theory:
"For the longest while I have been waiting for the opportune time to give significant acknowledgement (rather than just a thank you – which I have probably said a hundred times already) to Professor Ka'ai, therefore, I am very grateful to be given this opportunity to write about her as a supervisor. A chance to acknowledge her for all the assistance (above and beyond her role as a supervisor) she has given me, and indeed all her students, over the years. For her unyielding fortitude in guiding her students to the completion of their research and for her patience and empathy when dealing with the concerns and anxieties of her charges. Choosing Professor Ka'ai as my supervisor was one of my better (if not the best) choices of my study journey."
Māori Doctor of Philosophy candidate (current) specialising in Māori education:
"Prof has a passion for Indigenous research and she walks the talk. I love being with Te Ipukarea because it is an amazing kaupapa Māori environment and you are always encouraged to grow and learn. Prof has a very caring nature and places you [the student] first at all times. Her comments on my writing are always constructive, honest, open and fair. She is highly organised, methodical and structured in feedback during our supervision hui. Prof has a collaborative tuakana-teina style, where she engages you in kōrero and enables you to do better in your writing each time. I enjoy her approach to supervision and find that it is very easy for me to be who I am with her. Prof is very encouraging and supportive and at the end of our supervision hui I leave with a clear pathway and "next steps" to report on at our next hui."
Māori Doctor of Philosophy candidate (current) specialising in traditional Māori fine arts:
"There is a mutual respect and understanding, and this is the solid foundation of our student-supervisor relationship. She is fully committed to you [the student] and your studies."
Pasifika Master of Philosophy graduate (2018) specialising in public policy and disaster risk-management for island nations in the Pacific:
"Prof Ka'ai is very approachable and has a way of making things quite simple and achievable for the student. She is very passionate about her students and goes the extra mile to ensure they do succeed."
Pasifika Master of Arts graduate (2018) specialising in Pacific language revitalisation:
"Choosing Prof to be my supervisor was a no-brainer, she is one of the best supervisors around. She managed to strike the balance between challenging me and encouraging me. She really engaged with what I was writing each time and guided me to areas of discussion that I had not previously thought of. Through her gentle, steady, relational support, I became aware of the areas in which I needed to strengthen my writing in order for my research to be at a high standard once completed. I deeply appreciate her effortless transfer of knowledge and wisdom, and her continual push for excellence."
Māori Master of Arts graduate (2018) specialising in Māori youth development:
"I knew I would be looked after by her and that I would finish my thesis. I could not thank her enough. If it wasn't for Professor Ka'ai, I would not have completed my Masters".
Pasifika Master of Arts graduate (2018) specialising in Pacific art:
"Professor Ka'ai is enthusiastic and has a genuine passion for getting students involved in research and succeeding in their work. I felt that she was always on my side and on my wavelength."

Professor Ka'ai's top tips for students looking for a supervisor:
Do your research on what supervisors are available to you – shop around!

Do not choose a supervisor who "thinks they know whats best for you".  Instead, choose a supervisor who will embrace your ideas and help you shape these into a research kaupapa that reflects what you want to study and feel passionate about. Choose a supervisor who is as much a good listener as well as being a 'talker'.

Always choose a supervisor that reflects your preferred style. For example, hands-on and face-to-face supervision OR a preference for either skype or zoom supervision (and therefore less hands-on); a preference for electronic feedback through tracking OR the traditional red-pen-editing approach.

Choose a supervisor who knows University regulations and processes including supervision agreements and taking minutes of supervision meetings. Choose someone who attends supervisors workshops to keep their 'license-to-drive' current, and has evidence of having supervised a student through to successful completion.

Choose a supervisor who you feel from your very first conversation, is committed to getting you across the finish line.