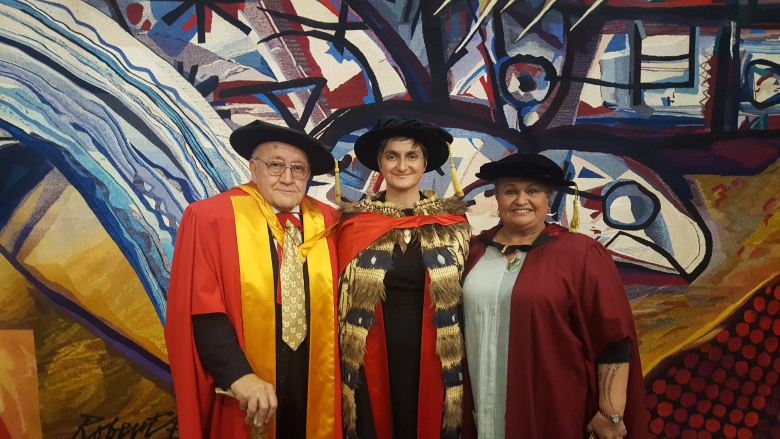 Congratulations Dr. Hana O'Regan!
27/07/2017
Te Ipukarea is delighted to congratulate Hana O'Regan, of Ngāi Tahu, for being awarded her doctoral degree at Auckland University of Technology's (AUT) winter graduation ceremony this week. Dr O'Regan's primary supervisor was Prof. Tānia Ka'ai.
Dr O'Regan is known nationally and internationally as an expert in Māori language revitalisation. She has been an integral part of Ngāi Tahu's own language strategy, "Kotahi mano kāika, kotahi mano wawata", and is now the General Manager-Oranga for her tribe.
Te Ipukarea is particularly proud as Hana has supported the Institute's many endeavours, from our research projects through to our engagement initiatives such as He Huatau Auaha creative writing competition for children (for which she has been a judge). She is also a Fellow of the International Centre for Language Revitalisation. 
Dr O'Regan has long worked in the field of language revitalisation and this degree is a feather in her cap.
Kei te manawa tītī o te pūwharetāiko o Tahu, nei rā ngā whakamiha a ō hoa, a Te Ipukarea, e rere atu nei. Ko āu rangahau ka tiakina hei kuru pounamu mō tō iwi, otirā mō tātou, mō te iwi Māori whānui tonu.
Click on the following link to download Dr Hana O'Regans thesis: